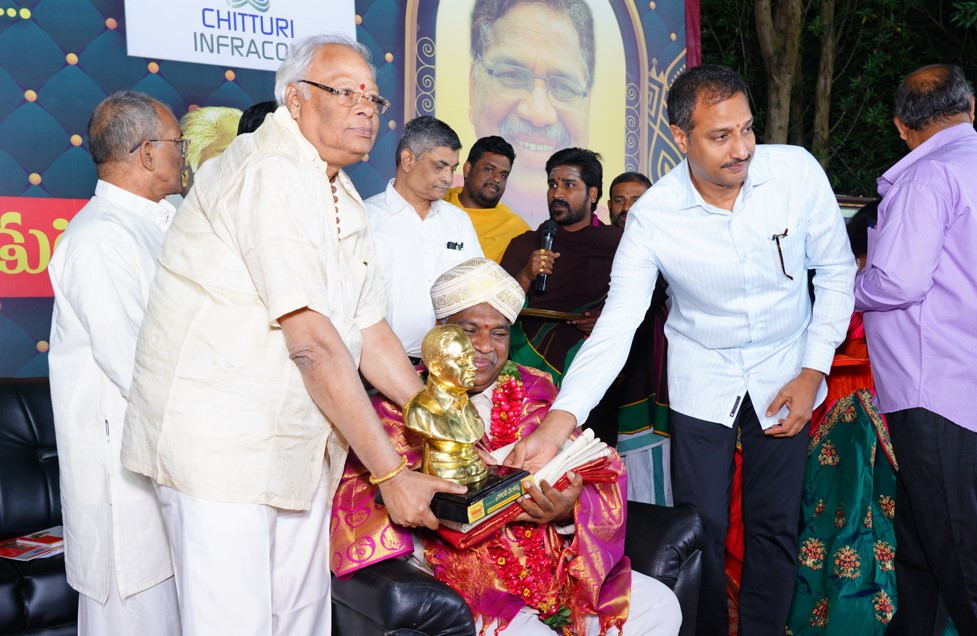 The Chtturi Metro buzzed with the lively vibes of the presentation ceremony organised by the Veturi Sahithi Peetha and Sriprakash Cultural Association, Tuni. Gorati Venkanna, the famous poet and singer, was the 12th recipient of Veturi puraskara. The awardee was felicitated with 150 books in the form of a garland. He said that it was a great honour for him to have his turn this year to receive the prestigious award.
He hailed Veturi as the matchless maestro of playback literature...His pen could wield mesmerizing magic to touch and move any heart... He was the maestro to have proved that intricate feelings could be evoked with the simplest possible words.... He exhorted the youth to love literature as there are multiple opportunities for language lovers in today's world of commanding communication.
Madhavapeddi Suresh, a special guest, felt that it was an honour for Telugu literature itself to celebrate the poet's birth anniversary in this way. In his words, no one could claim the very special place enjoyed by Veturi
among sensuous playback poets. Another special Guest, Sri Golla Baburao, Chairman, AP Assembly SC Welfare Committee and MLA, Payakaraopeta Constituency, compared Veturi to a fathomless ocean of popular singing for his admirers to draw out their choicest numbers.
Sri Vijay Prakash, Joint Secretary Sriprakash Educational Society opined that it was a fitting tribute to a great poet to honour and encourage literature lovers through this inspiring award. The key role played by the founder secretary Sri Kalaga Ramajogeswara Sarma is highly commendable. For his yeoman services rendered to the Sriprakash Cultural Association, the multifaceted veteran was awarded a lion-headed gold bracelet. Another highlight of the celebration was his penned book, KADAMBAM, was inaugurated by Sri Vijay Prakash. Sri KRJ Sarma, the Founder Secretary and Sri Bulusu Venkateswarlu, were also present among the admirers on the grand occasion.