Welcome to the land of 
Learners, Leaders, Linguists & Innovators 

Magnanimous & Serene campus for lively learning experience...
Ultra Modern Academic Facilities
Keeping pace with technology and facilitating students with state of the art Teaching and Learning Aids is at the forefront of Sri Prakash way of education. 
Be it Science, Math or Computers - students are provided hands-on experience. Sri Prakash is one of the First Schools to be awarded Atal Tinkering Labs - a central govt. sponsored fully equipped ultra modern lab to enable students understand and apply the knowledge they acquire in class.
Students also have the previleged access to thousands of volumes  of wide variety of books ranging from literature, fiction, etc.,
Multi Utility Sports Facilities
Sri Prakash believes in - "A sound mind in a sound body". With its exclusive vast playgrounds and sports facilities, Sri Prakash provides wonderful platform to enthusiastic prakashites to hone their sporting skills and reach heights. Many laurels at National school level games and sports to our students prove this point.
Giving the Best
Sri Prakash will always be first in providing the best of the facilities or infra to it's enthusiastic students helping them realise their dreams.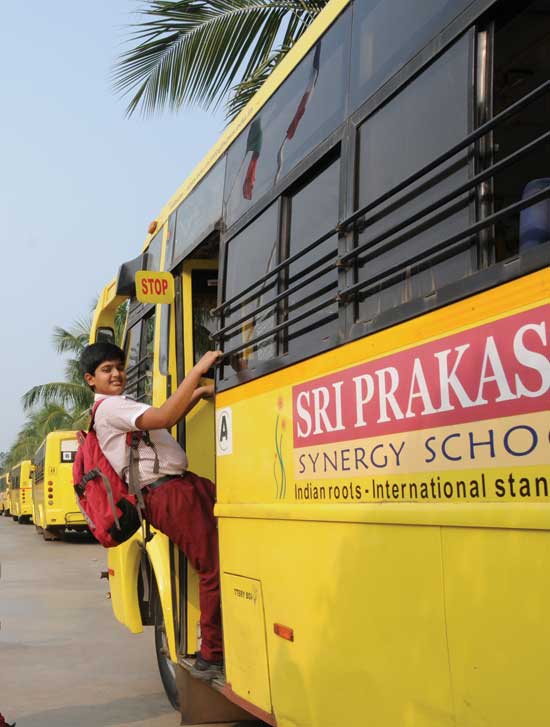 More than 45 Years of Experience
Established in 1977, Sri Prakash completed 45 years in the journey towards excellence trying to be ahead of times in the field of Education. Growing today.. Where the world is going tomorrow.
Experienced Faculty
Sri Prakash is fortunate to get on board expert and experienced faculty with right kind of attitude to see that even complex topics are easily understood by the students - be it Languages, Maths, Science or Arts.
Seelena Sobhate Vidya
We belive in the principle - Knowledge shines only with Good Character. Along with quality education, character building is also given top priority.
Fleet of Buses
In addition to Homely Hostel, Sri Prakash provides well networked bus facility to students commuting from nearby towns/villages for their safe schooling.