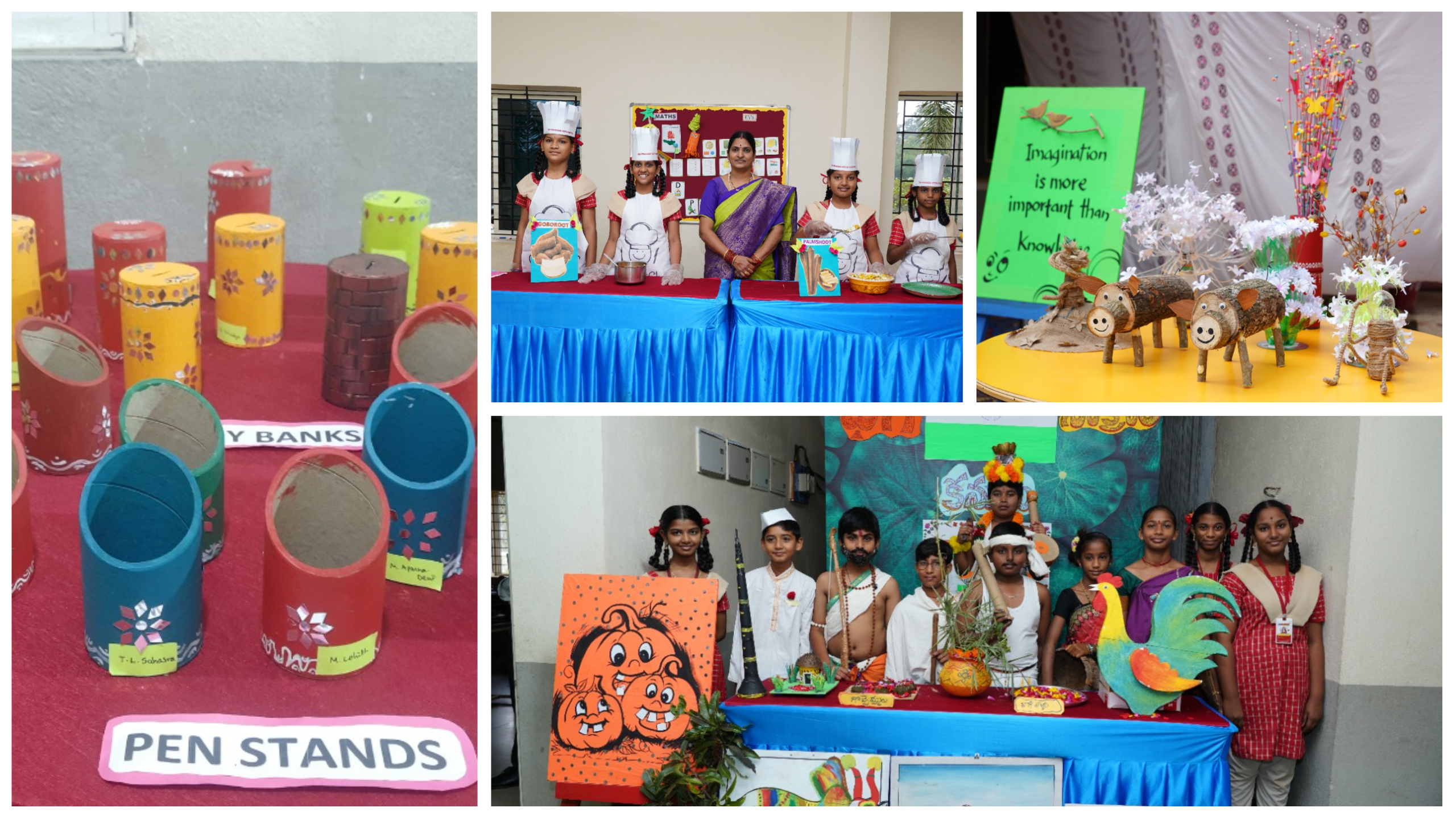 Sri Prakash Vidya Niketan, Annavaram conducted 'Kids Art and Craft Mela" event on 5th January, 2023 based on the theme "Best out of Waste". As a part of event, students prepared many crafts using wooden sticks, bottle caps, coconut shells, Caton boxes, flexy rolls etc.  Each and every class prepared 2crafts. LKG kids marbled the wood and bulb turning them to a colourful art. UKG children prepared a girl of collage art using pencil dust and small colour paper pieces. Class-I made bird frames and fish aquarium using beach seeds. Class-II painted the pebbles as cactus, honeybee, lady bug. Class-III molded the carton box into snails and fish skeletons. They also prepared spiders with webs using bottle caps, twigs and threads. Class-IV made a model of hen,
cock and shoe using carton box. Class-V turned the coconut shells to cute rabbits, teddies and beautiful hangings. Class-VI made a beautiful photo frame using carton boxes. Class-VII prepared piggy bank, pen stand and a hanging using flexy rolls. All parents enjoyed watching their child's articles. Some of the students prepared some live articles and explained the process to the parents. 
Parents enjoyed playing different challenging games like holding breath, holding bricks. They also ate healthy snack items such as gobo roots with jaggrey, palm shoots and amla's. Some students exhibited vegetable carving and fruit carving with seasonal fruits and vegetables. Students also displayed the January month festivals like pond and Republic Day playing different roles like haridasu, soddamma, Gandhiji, Alluri Seetha Rama Raju, farmer, Nehru etc. and explained its importance to the parents.
Students applied jaggery mehandi to all the parents who visited the Mela. They also explained the importance of bath powder (sunnipindi), natural kajal, hair oil for the best hair growth. Finally, parents purchased a keychain and a photo frame encouraging the students to make more articles in the same way.