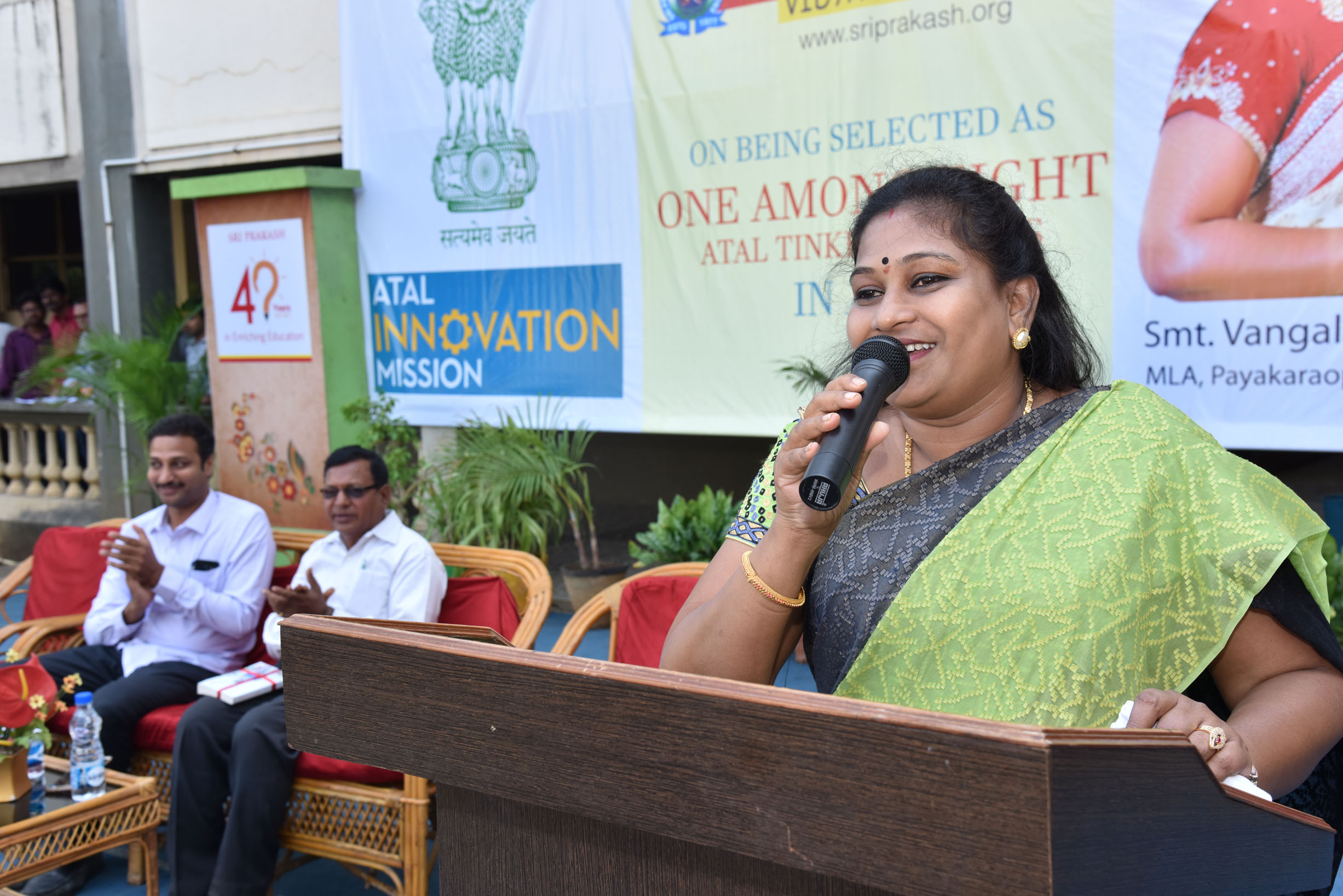 AWARDING OF ATAL TINKERING LABS TO SRI PRAKASH EDUCATIONAL INSTITUTIONS  IS A PROUD MOMENT FOR THIS CONSTITUENCY,MLA SMT VANGALAPUDI ANITA MEETS STUDENTS OF SRI PRAKASH
Sri Prakash Educational Institutions got immense respect-  Atal Innovation Mission was established for allotting Atal Tinkering Laboratories by NITI Commission (National Institution for Transforming India It is moment of pride that Two Schools of Sri Prakash Educational Institutions have been selected out of 8 Schools chosen for Andhra Pradesh. Only 257 Schools were shortlisted all over India  out of 12,000 applications from various schools for ATLs.  Sri Prakash Vidya Niketan, CBSE, Payakaraopeta and Sri Prakash Synergy School, Peddapuram, have been chosen.  In order to congratulate the students and the management of Sri Prakash Institutions, on this happy occasion, the M.L.A. of Payakaraopeta constituency Smt.  Vangalapudi Anita visited Sriprakash Vidya Soudham.  Addressing the gathering of students, she said that It is a good result for this constituency for achieving  ATLs with two of  Sri Prakash schools being credited with the honour. In the future a good number of young scientists will be generated for serving our country from Sri Prakash.  This opportunity  has been given only to such Institutions which respect the values and traditions of the NITI Commission.   She hoped that new inventions will come forth from the students with the help of these labs. The students should always endeavour to sharpen their brain and cultivate the habit of continuous learning.  Such attitude will be the  cause of their success.She hoped that students would become Scientists in future generations from Sri Prakash Institutions.She also opined that students should come forward to cultivate political awareness as well.
Mandal Educational Officer, Sri R. Satayanarayana stated it is a good omen that Sri Sri Prakash Educational Institutions have been selected for laying the foundation for the golden future of the students.
The Jt. Secretary of the Educational Institutions Sri Vijay Prakash said the Government has recognized the whole hearted efforts of Sri Prakash Educational Institutions in the field of education and allotted these labs and also stated that he is planning to enable the Govt. and other neighbouring Schools to utilize these Labs for the ultimate good of the mankind.